Are you done with all of your shopping yet? If the answer is yes then you are dead to me... just kidding... I still love you but I wish some of your
cash
shopping mojo would hop on over my way so I can start. Yes , that's right, I said start shopping. You see, over the last few years I have taken last minute Internet shopping to it's highest level of expertise... I am in essence an Olympic gold medalist in this particular event as it were. I wish it were different but alas I am broker than a tooth fairy in a house full of meth. But that doesn't mean I am not a planner or that I just get on line at the last minute and go clicking willy nilly on random useless gifts. Oh no... I am a Virgo... I carefully select my gifts all year long based on a long list of things that I want.. for me... but I will buy for you because I puffy heart you. So consider yourself extremely lucky cause there are some really wonderful inexpensive yet thoughtful, unique and super cute gifts out there. Here are some of my favoritas...
Anthropologie Mugs
- Who doesn't love a pretty coffee/tea/cocoa mug and monogrammed no less. I do. I love anything with my name, initials, likeness/image... you get the idea. And since I like this I automatically assume if we are friends then you will to. And this little beauty is $8.00 folks. Add a packet of cocoa and a pretty little spoon, a mini bottle of peppermint schnapps and you got yourself a winner right there!
Rosebud Salve
- This is a $6.00 tin of miracle balm ladies. I use it on my lips, cuticles, elbows, feet... pretty much anywhere that needs some intensive moisture. It has a very subtle rosie smell, not too old lady and not like that horrid Tea Rose perfume that people used to wear... blech. Get some for yourself too.
A Glitter Sign
- Cause I love entertaining, drinking, my bitches and glitter. I mean who doesn't. And cheers is really the quintessential salutation. It works as a greeting, a farewell, a toast or any kind of punctuation for a thought really. So this is the perfect little sign to hang up next time you have some girls over for a cocktail.
Fun Christmas ornaments....Also from
Urban Outfitters
- I love a funky mismatched tree with tons of different kinds of ornaments. I also love giving ornaments to kids if you have any on your list. I buy each of my kids a unique ornament every year so that when they leave home they have 18 or so to take with them for their first tree. And I love skulls and unicorns as I am sure you do too. And if you don't, get on my level.
Jewelry form Etsy - Etsy has the coolest stuff that you can't find anywhere else. I have been looking for a ring to replace my wedding band and I think this is pretty much perfect. Now the point here is not that everyone is going to want to be like me and wear this "fuck it" ring but most of us girly girls like jewelry so go shop Etsy. Oh and
these little trinkets
are a mere $17.00 for two and will be a fun convo starter don't cha think?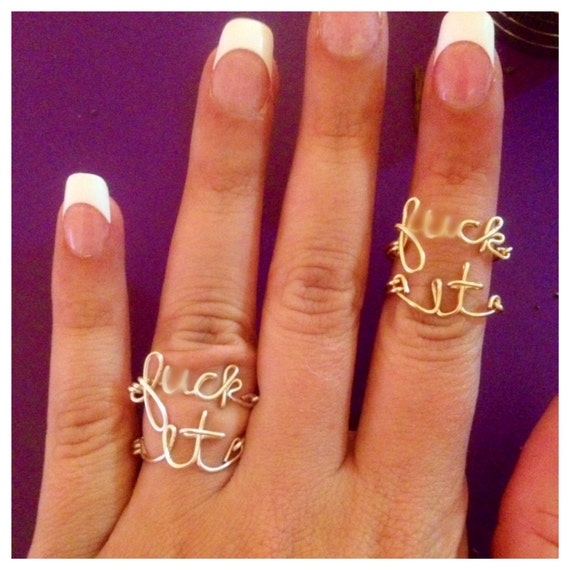 And last but not least food... specifically a Kringle. Do you have any old people on your list? People who live out of town that you need to send something to? People who love to eat delicious things? Send them one of these from the
O&H Danish Bakery in Wisconsin
. I am here to tell you everything they make is absolutely ahhh-mazing and you will thank me when your people call you raving about your gift. It makes a perfect Christmas morning breakfast with a steaming cup a joe so make sure you get it there in time! Oh and this Red Velvet tasty treat is only $18.95. How can you not want to shove that in your pie hole?

These are just a few things that I like, I could write this post for days and days, so I may do a second installment. I realize I left the guys out but I think I'll do another post just with some guy gift ideas.... and not just food, sex toys and alcohol... or maybe all food, sex toys and alcohol cause that's what they really want. Hmmmm...

Ta Ta for now! Happy Shopping!