What could be more motivation than stepping on the scale on a Monday and finding 5.5 more pounds got kicked to the curb in the month of March? Well for me that is pretty damn motivating. I think I laid out my goals
here
for the next few months but for a mini re-cap I basically decided to shoot for 5 lbs. a month to reach -30 lbs by June 1-ish. I say "ish" because the key for me so far this year has been reasonable expectations. In the past I think that one of my sources of weight loss frustration has been setting really specific goals. Maybe not totally unattainable but frustrating for me when I missed the mark. I don't want to be crazy strict about every little thing I eat or drink 24/7. When that is what I need I have Whole30 to turn to and I know it works every time.
So.... I have lost 22.5 lbs so far this year. I have gained a lot too, a lot of insight that is, into a way of eating that I really think I can maintain long term. What I have learned this year is that a shift in perspective seems to be making a difference for me. I proved to myself this last month that I can eat whatever I want and I don't have to plan super far ahead, write everything down or track it in a fitness app. I just have to decide if it's worth it. This has been pretty life changing if you want to know the truth because I am a planner. It's part my personality but also, when it comes to food, part not trusting myself to make those decisions in the moment. I am not sure why exactly but as it turns out I can make those decisions in the moment and I can be satisfied with whatever I decide and not beat myself up over it. Who knew. After January Whole30 and February Re-Introduction I made March all about not planning a damn thing to see if I could do it and still stay focused.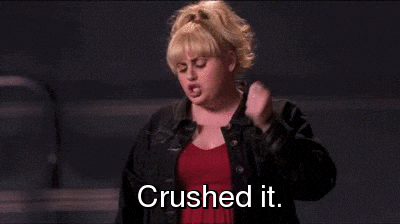 And what I mean by that is I didn't predetermine what I was and wasn't going to have for the month. I didn't scour menus before heading to a new restaurant, I ate girl scout cookies 2 at a time, I drank black and tan's on St. Patty's day, I shared an order of blue cheese chips with a friend at a bar and each of these times I stopped and thought... "do I really want this and is it worth it?" I know there were other things I passed up that weren't, like pizza, chicken biscuits and donuts. On my radar but still, didn't feel like pulling the trigger in the moment. Having what I want and completely letting go of the guilt has been 1000% liberating.
Here is what else I know. On the positive side...My pants are loose, like all my favorite jeans are constantly needing to be pulled up. My tennis skirts are looser and way more comfy, also the undershorts stay put instead of constantly rolling or riding up. Shocker. I have more bras... that fit. I don't miss beer anywhere near as much as I thought as I thought I would. On the other hand... not gonna say negative because anything you learn along the way is positive, I can clearly identify some slippery slope/no brakes foods for me and they are not changing AT ALL. Wine is a biggie, I have to be really careful to stop myself at a certain point. Gluten free crackers/chips are another one. Just as easy to eat a bag of those as it is Doritos Jacked. Maybe not exactly but still. Dairy free cream-type cheeses are also like a trigger. Is it somehow better to eat dairy free if you still eat the whole tub in 2 days? That would be a no.
In other news my application to be a Whole30 Certified Coach was officially accepted and I am really excited. I also am anxiously waiting to see who the New Primal chooses to receive the scholarship toward the certification fees and praying I win! That will be announced this Wednesday so send me all the positive winning vibes you can muster.
Hope you all are having a fabulous Monday!