I don't know about you guys but spring makes me want to buy new things. New clothes especially because you can still get away with covering up a bit before it hit 100 muther fucking degrees in GA. This year I am also a bit obsessed with new things for my house. Things that look lighter, airier, fresh and modern. Here are 5 things currently on my spring radar.
MY UNIFORM
I live in black pants and simple tops. I am sure I have at least 25 menswear inspired denim, light blue, French blue and/or white shirts to go with my 99 pairs of black pants. So why wouldn't I want more? This
Marinwood Stripe Poplin Shirt
from Athleta is seriously calling my name. I love the ribbon detail down the back, so different and super chic. These
Stellar Crop Pants
claim to be the only pants you need for spring. I'll be the judge of that but they do look mighty comfy. One thing I am diligent about is retiring the black pants the minute they start to fade. Nothing looks worse than faded black anything. Don't do it. I totally think these would be Friday friendly for work with some crisp white Adidas or a pair of fun flats.
ROTHY'S
Enter
Rothy's
fun flats. Has anyone bought these yet? They are made of recycled plastic water bottles and are cute, comfy and sustainable. Oh and machine washable... whaaaat? I have not taken the plunge as they do carry a steep price tag for a ballet flat... $125 for round toe, $145 for pointy, but I hate most of the cheap flats I own. They are just not comfy at all and usually if I find a pair that is comfy they look sloppy or slipper-ish. I have my eyeballs on both the leopard because I consider that a neutral and the camo.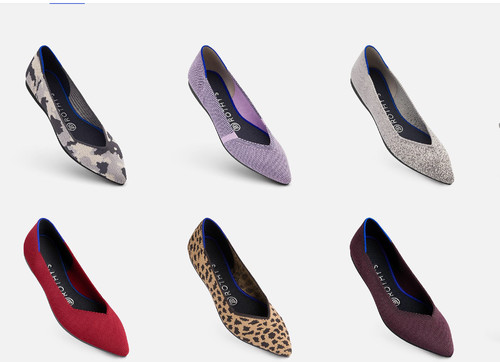 EAMES CHAIRS
You might think I am nuts but these classic
Eames Chairs
are currently in my Amazon shopping cart for my kitchen. I want to get rid of the wood/upholstered seat chairs I currently have and freshen up with something light, bright and modern. Ten years ago the thought of keeping these clean would have been daunting with peanut butter and jelly fingers everywhere but now I am pretty sure we can manage.
CHANDELIER
I keep going back and forth with a new light fixture over the kitchen table and I saw this
Sputnik Chandelier
in a magazine photo and I am kind of thinking it might be the one. Lighting can be so expensive but since I do not plan on this being my home for too many more years I don't want to break the bank. For $112.99 this might be the perfect solution, a pretty upgrade for me that I will have no heartburn over leaving behind.
Hope you all have a fabulous weekend!