The other day I was scrolling thru IG and I came across this picture of this person and I was blown away. The eyes were just like mine. Then I realized it was my daughter's IG... duh they are essentially my eyes. My teenage daughter took a pic of her sister floating in the pool with her face out of the water. It totally freaked me out.


I was recently in a meeting with a "person" who said, and I quote... "I have never met anyone as smart as I am in my 57 years." And was dead serious. I wanted to throat punch said person.
I finally made one of the appointments that I have been putting off... with my cardiologist... stupid BP issues. I'm going today. I love this doc but I am afraid he is going to give me hell for staying away so long. And not losing any weight since the last time I was there. Ugh. He won't but I am afraid he will. Irrational. I have two more appointments I still need to make to get all caught up on health stuff. I am always afraid that I will go in there feeling basically fine and they will tell me all sorts of things are horribly wrong with me. So I put off going. Dumb.
You don't realize how much noise one human can make and/or generate by their very presence until they take a vacation for a week and the office is virtually silent. And heavenly peaceful.
If I went to the Emmy's I like to think I would be this... 100% perfection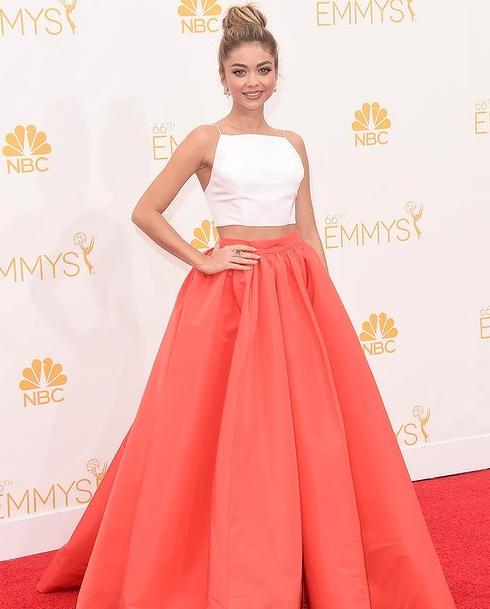 And not this.... head to toe FAIL
These people have stylists to dress them. What in the actual fuck happened here. The funny thing is it is the same concept... a statement skirt paired with a simple white top. Yet still so horrifically different.
I haven't exercised in like a week and I feel insanely bad about it. Especially scrolling thru my Insta feed and seeing shit like this. Some of the Fitness accounts are really starting to irritate. I mean I'm not a Navy Seal.
And speaking of the Emmy's I didn't watch the VMA's either but I loved Katy Perry and Riff Raff (one of my faves) spoofing Brittney and Justin from way back. Sadly I am sure many viewers are too young to even remember that Brit and JT were once even a thing. But really who could forget this?
My birthday is 2 weeks away and I am seriously considering starting the month long celebration of my birth next Monday, the 1st of September. Because I can't pack in all the things I want to do to celebrate another year of survival in one day.
One of my fave Top Chef alums has a very well reviewed restaurant here in Atlanta and it is on my birthday to do for me list... Gunshow. But it ain't cheap.
He makes something with pork belly on the menu every night for God's sake.
And he looks like Yukon Cornelius. Who I secretly kinda dig... a bearded, ginger who loves bacon.
Happy Humpday Fools:)

Linking up with Kathy!