Yay!!! It's Friday! I haven't linked up with the beautiful bride to be
Miss Amanda
over at
Meet at the Barre
lately so I thought ... "get your shit together Amy!!!". And here I am, so let's do this weekend favorites thing...
SONG
I know... you might think this is the most annoying song ever. But I love it... I walk around singing all the time and so do my kids and we crack each other up. Like pop around the corner and just say... "I'm in love with the coco" ... stupid funny we are. Don't worry... we talk about how bad drugs are all the time! It's just kind of catchy.
FOOD
I finally bought the Vegetti and drank the zucchini pasta kool-aid. Not gonna lie. I really. really miss pizza/bread/pasta type things but I am feeling pretty amazing and loving the zoodles I have been shoveling down this week. My little one even helped in making a batch cause kitchen gadgets are cool. Now to get her to eat them. Prep time was quick, sauteed up perfectly in a little EVOO in just a few minutes. Winner. Here is the one I bought. My eight year old could use it it's so easy!
TWEET
Love him or hate him he has a valid point here. Good luck in the NFL Jaboo!! It was a great run
I love my squad no matter what
#
FSU
till the day I die D.I.E. What an amazing year we still will have the same # of Ls as the champ
#
LMAO
MAKEUP
NYX Mineral Stick Foundation - It's portable and goes on smooth. Gives great coverage whether I need it all over or just in problem areas. In the winter my skin tends to be a lot more red so I need more than my mineral powder. I still use a primer, then this and sometimes finish with a little mineral powder. Still 3 very light layers. I think in different shades it would be great for contour as well. Love it!
INSTAGRAM ACCOUNT
@tindernightmares
This is so funny, especially if you have Tinder experience. Shit really happens.
THOUGHTS
Yes, yes a thousand times yes.
FUNNY STUFF
Since most of us have been in the deep freeze no matter where we live this week I thought winter funnies would be the best way to go. Winter always causes lots of falling down people too which I know you all like very much.
I just thought this was cute...
This is awesome. I love the angry brows.
It's so stupid and possibly true it's funny.
I'm going to stop complaining about winter in GA now.
She's wearing boots with heels. Rookie.
So you think you can dance. Time to move to LA.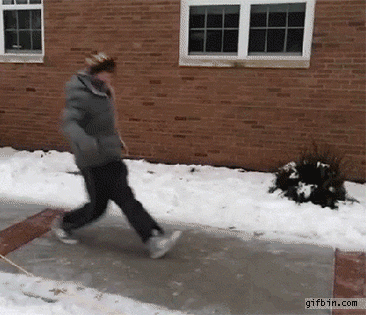 Ouch.
You know she got some snow in places where it sucks to have snow.
Timing really is everything.
I hope you all have a wonderful weekend and stay warm!